Camping Pods

in the 


Lake District & Cumbria 

We hope that you'll find just what you are looking for with our selection of Camping Pods, which are popping up in fabulous locations within England's beautiful Lake District and in some of the quieter corners of Cumbria, which aren't technically in the National Park, but are equally beautiful too.
a little bit about Pod Camping
They are a fabulous alternative to camping and as we all know those Lakes and waterfalls have to come from somewhere so having an eco-friendly dry pod with a roof designed to deal with sudden down-pours and lockable French-windows or doors for when you are off away exploring. 
These pods do vary in size but most can normally accommodate two adults and two small children and of course the shape means that they have plenty of head room too. 
Pods vary in what they include some being en-suite and with a small kitchenette and built in beds and some being more basic, literally just the shell, so you will need to bring everything that you would with you apart from the tent.
We always try to bring you all the current details but if you notice any changes then please do let us know.  Ready to read more about these affordable camping alternatives in the Lakes?

National Trust Sites with Camping Pods
Camping Pods at Eskdale
National Trust Site
https://youtu.be/qdoBMuLRFQA

These camping pods are on the National Trust's Eskdale site, are some of the more basic pods available in the Lake District. Ten in all they are clustered in two cosy circles on a wooded area of the site, ten over-all, which make them ideal for families or couples on holiday together. 
Each pod can accommodate up to two adults and one child and they are insulated with sheep's wool making and have heating which means they can be booked throughout the winter months too. 
The pods are close to the campsites facilities and are unfurnished so you will need to bring absolutely everything with you that you would if you were camping...apart of course from the tent. Heating and lighting are provided and there is also a double electric socket and two USB sockets.  Just a note that the capacity for the electric socket is 10 amps so any electrical items such as kettles would need to be low wattage, such as say a travel kettle. 
Dogs are welcome in these pods and there is an exercise area away from the camping area. The Eskdale site is in at the bottom of the Lakeland's famous Hard Knott Pass, but check the map before you set off rather than relying on SatNav as there is an alternative route!
You can read more about the Eskdale National Trust camping pods and how to book right here.  
---
Pod Camping an Bryes
Woolpack Farm Wasdale
These Byres and Camping Pods are in a fabulous position, with walks from the door and the fabulous Woolpack Inn serving great food right next door. 
The units could of course be booked together if you are a larger group and they would be happy to organise activities for you such as canoeing, paddle boarding, ghyll scrambling and guided walks. Bike hire is also available and you can read more about these activities right here. 
Please note there is a no-smoking policy including e-cigarettes. 
the
Woodland Pods

Woodland Camping Pods at Woolpack Farm
These camping pods are most definitely glamping rather than camping! Lots of attention to detail has been taken in furbishing them to a high standard.  There are four in all, each with its own outdoor space with table and chairs and a chiminea too. 
The pods are heated so can be booked year round and each has its own en-suite shower.  Each also pod has a mini-fridge, microwave and kettle along with mugs and tea-spoons and tumblers and a BBQ is available to hire. You could also bring your own camping stove to use outdoors or alternatively The Hardknott Bar & Cafe at The Woolpack Inn, which serves great food (we do recommend booking a table) is just next door and you can see their menu here. 
The space inside these pods has been well utilised so they can sleep 2 + 2 on the sofa bed with that fabulous view from the door. 
Full details and more about the area and to check out availability, can be done found here 
---
the
Woolpack Farm
Byres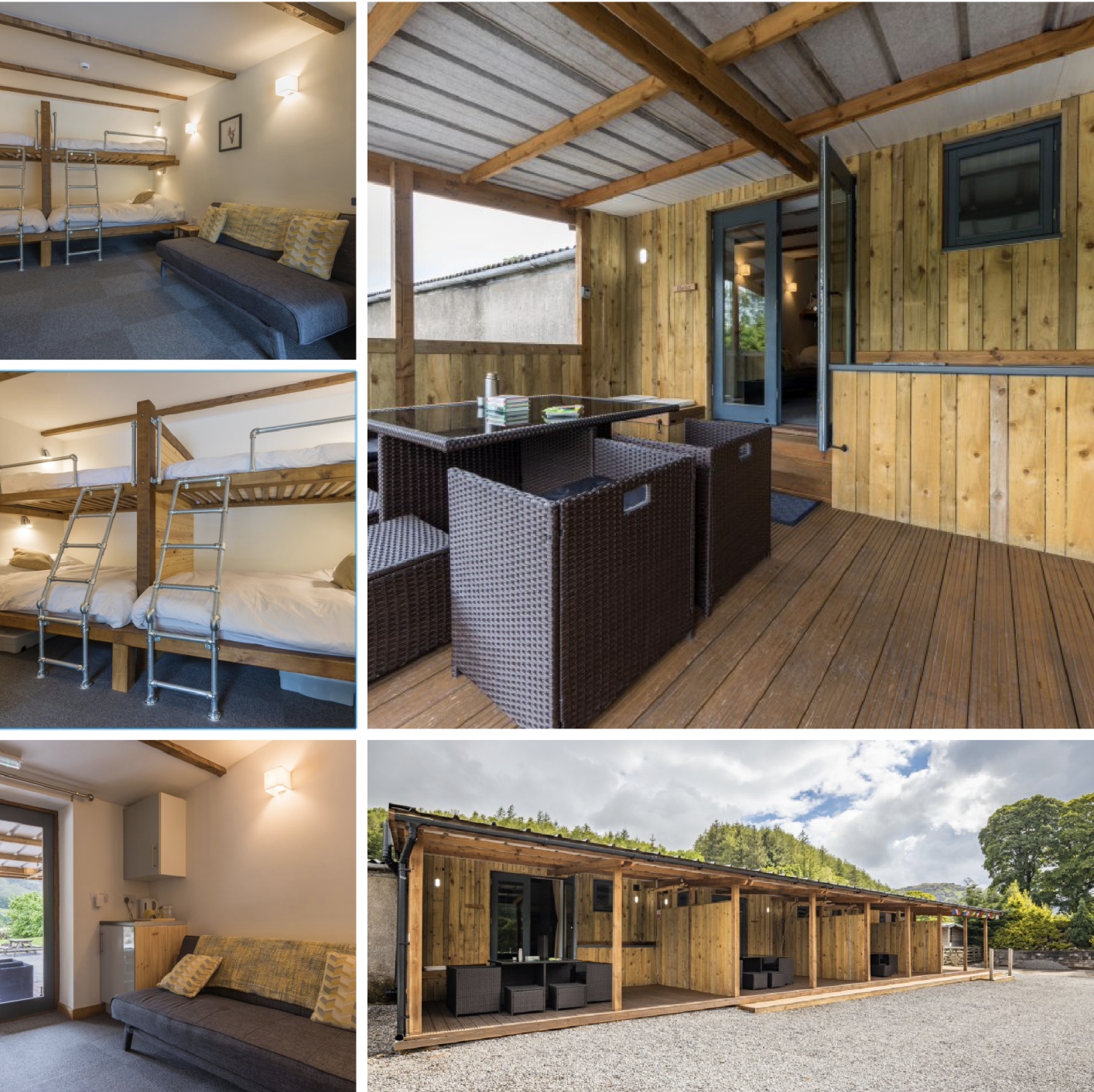 The Byres at Woolpack Farm
These Byres are a really fabulous Glamping opportunity - amazing location, bang next door to a great pub and beautifully thought out. 
Three in all they have comfy beds with bedding provided, hot showers, heated towel rails and heating! I can see you are already tempted! They have been converted from an old farm building and have brought camping to a new and quirky level. 
Ideal for families, two of the units have two double beds and two singles and the third is slightly smaller with a double, a single and a pull-out trundle bed. Outside each unit you'll find a decked area with table and chairs along with a sink and a space for your own small camping gas cooker if you wanted to bring one (a small gas griddle is available for hire). There is a communal fire pit and also places to BBQ. 
Dogs are welcome at an additional charge. WiFi is available too. 
You can check availability and also read more details about what is included and what you will need to bring with you for your stay at the Byres here. 
---
Mosedale End Farm Glamping Pod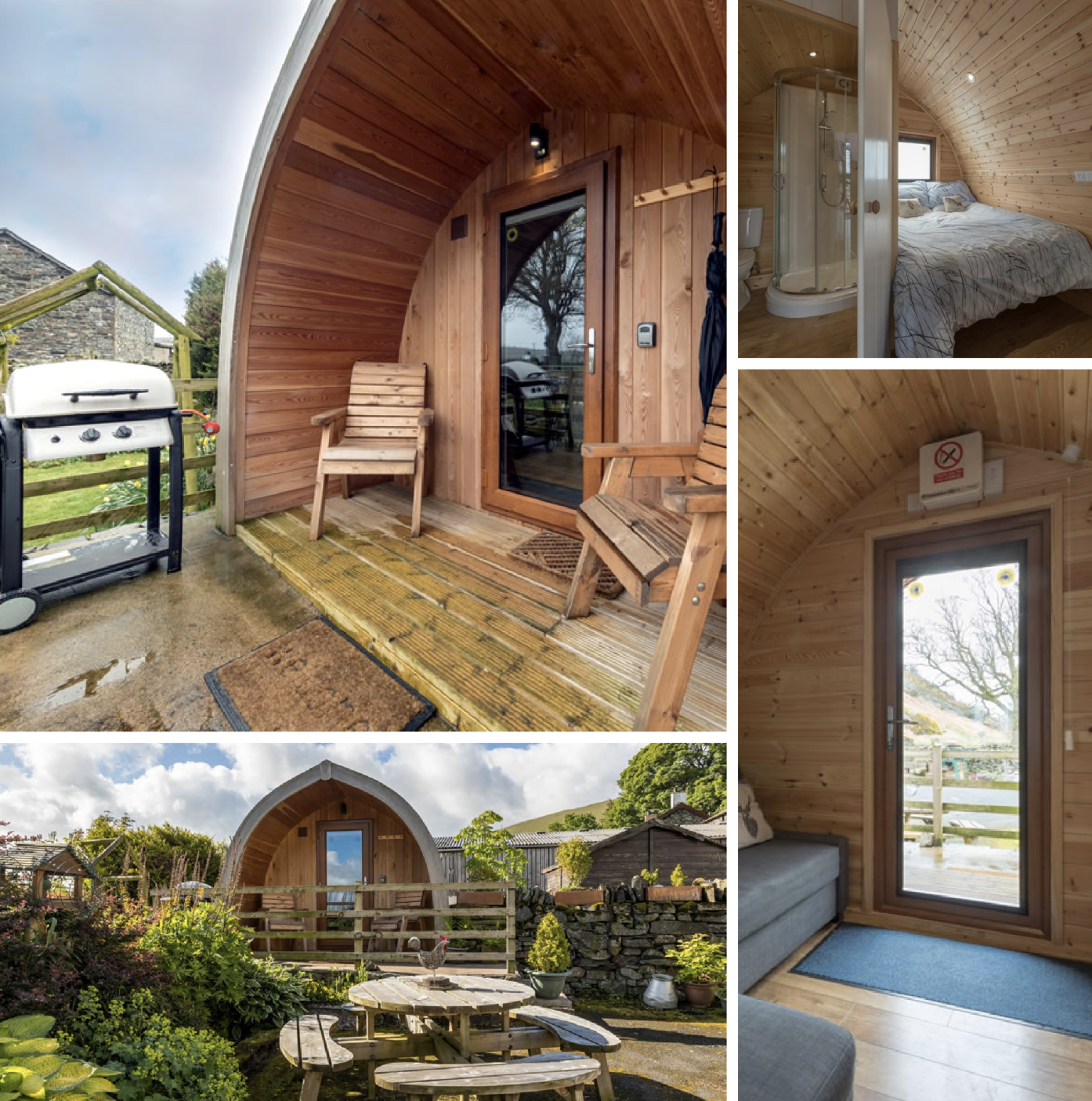 On a working farm - BBQ can be hired here too
On a working farm up in the north east of Cumbria is this well equipped Glamping Pod.  The pod sleeps 2 + 2 and has underfloor heating and an en-suite shower.  There is a kitchenette with a small fridge, toaster, kettle and microwave and you can hire a BBQ here & Gas bottle for your stay too.
There are walks from the door and if you fancy exploring further afield then Keswick and Ullswater with all that they have to offer are just a short drive away. 
This working farm encourages wildflowers and nesting birds and you may well hear the 'come bye' as the sheep are moved in the traditional ways to a different field. Cattle are also on the farm and if you want to help feed the hens then just ask!
Read more about what is and isn't included and the local area of Moseldale End Farm Glamping pod, just here. 
---
Kentmere Farm Camping Pods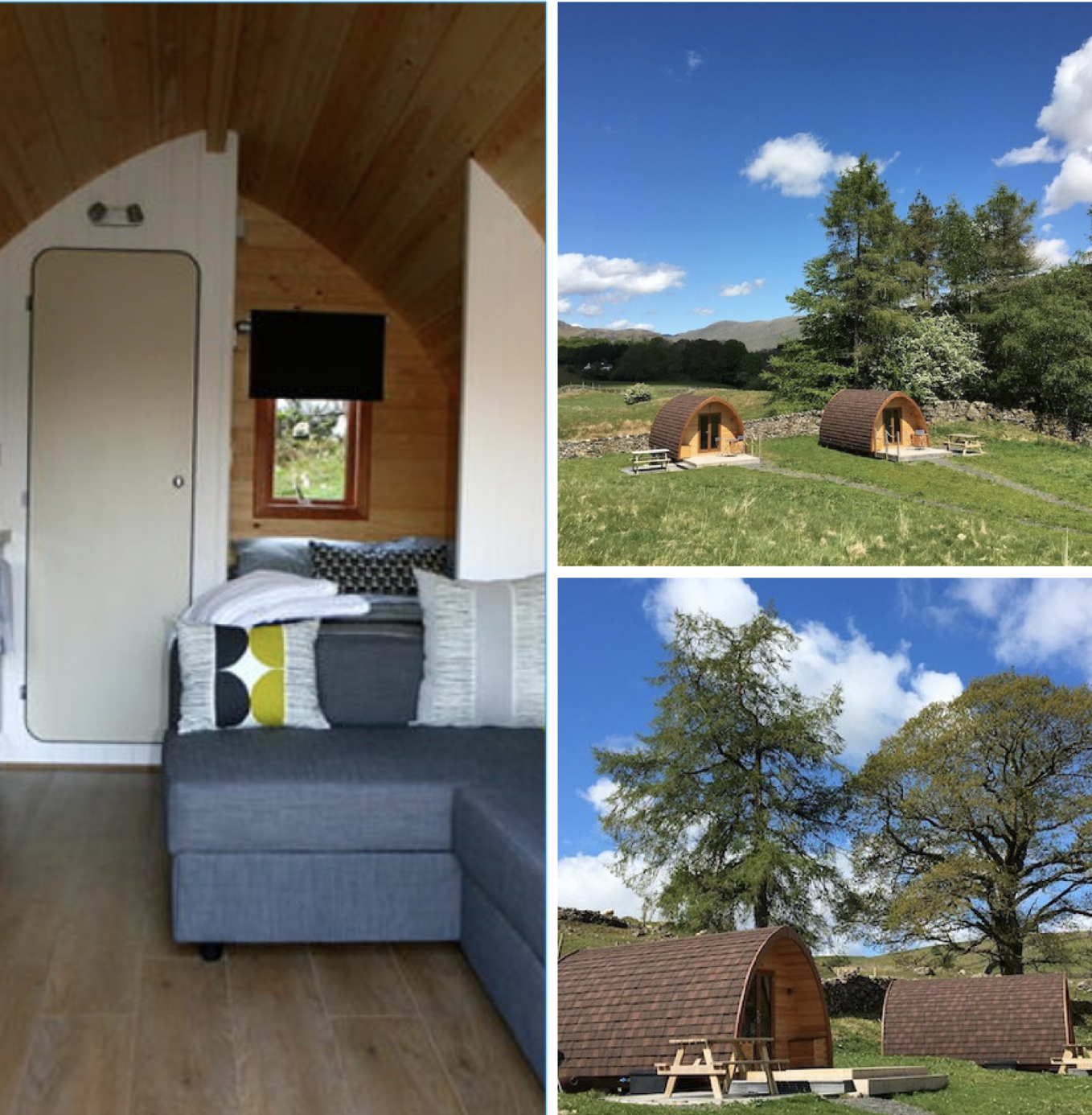 Glamp off the Grid! These Pods are in a fabulous location for discovering off the beaten track Cumbria
Lake District tranquility - it that is what you are seeking then you may just have found it.  Off the grid (quite literally as there is no WiFi but if its really important you can get 4G if you go to back to the village). 
If you haven't discovered Kentmere yet, then its down a little lane off the main road at Stavely as you drive between Kendal and Windedermere. Stavely itself should not be overlooked if you are self-catering, with a great Gelaterie ice-creams, proper coffee, a village pub & even a chippy!
The pods are on a working farm so expect to see some lovely animals including, my favourites, the belted Galloways, as well as Lakeland famous Herdwick sheep and rare breed white faced sheep too. 
With just four pods in two sets of two you certainly won't feel cramped in style. Each pod has underfloor heating and can sleep up to 4 in a double + a sofa bed, with bed-linen provided and an en-site shower room. A kitchenette has the basics of microwave, fridge, Crocker and cutlery as well as four dining chairs and table. A BBQ and outdoor picnic bench are also provided for you to soak top the fabulous views. 
Consistently glowing reviews and finer details of these Off the Grid Glamping Pods can be found here. 
---
Castle Guards Farm Retreat
Luxury Pods with Hot Tub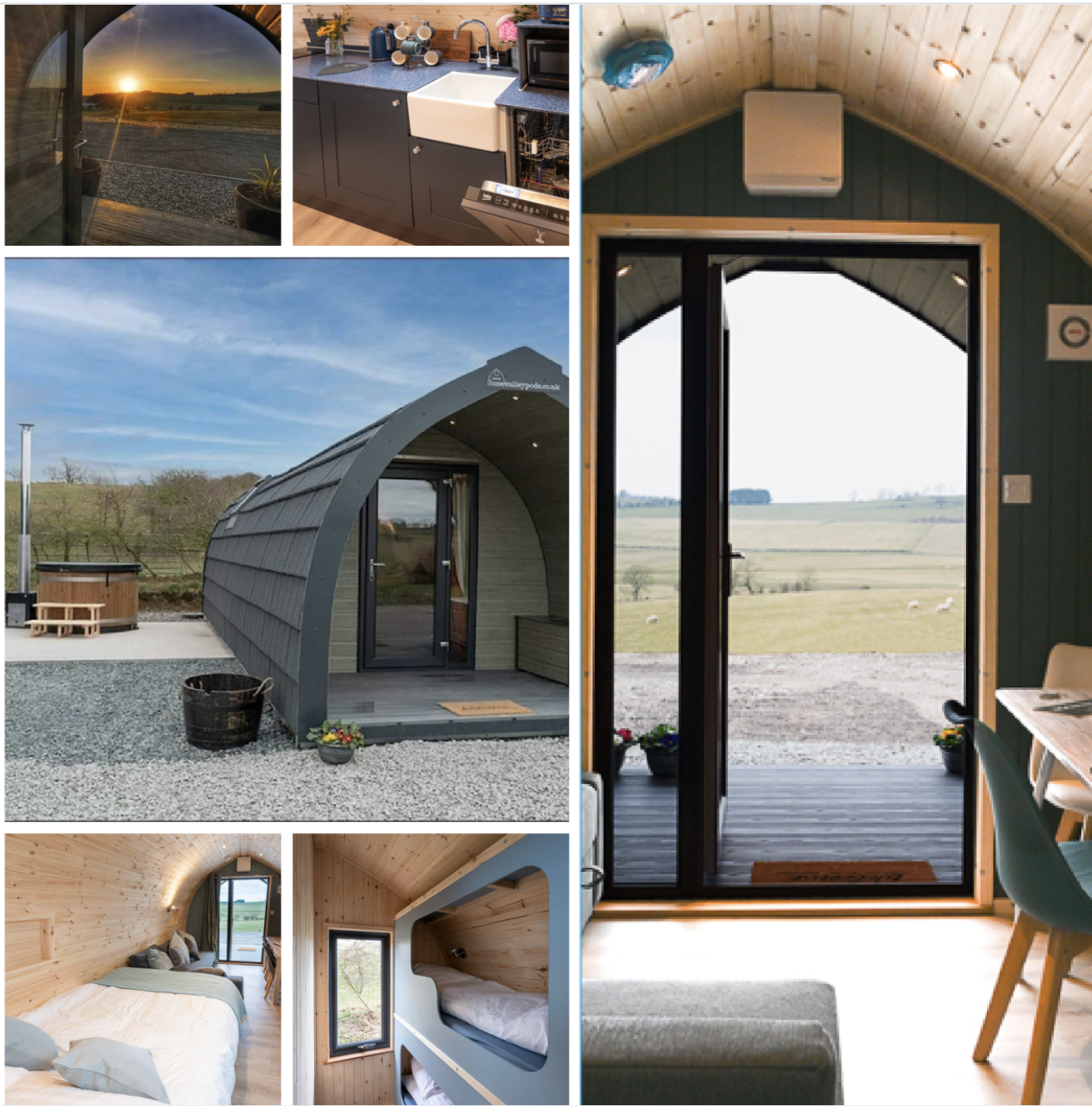 Extra large luxury Glamping Pods with Hot Tub
These Mega Pods with Hot Tubs really do taking glamping up a notch! The Pods are sumptuously furnished with a double bed and bunks in addition to a double sofa bed and have added luxuries such as power showers and kitchenettes, underfloor heating and family sized hot tubs. There are four pods in all, each sleeping six and other amenities include a Smart TV and a dishwasher too.  
Set on a working farm, at the beginning of Cycle Route 10, these pods are ideal for exploring The Lakes and have some stunning sunsets. 
We really love the attention to detail in furnishing these pods and you can see more photographs of them and read more about these wood-fired Hot Tubs and of course check for availability just here. 
* Hot Tubs and Fire Pits /BBQ's are available at an additional cost 
---
Grasmere Glamping

at


Broadrayne Farm Grasmere
These two Glamping Pods are bespoke and designed to provide a luxurious break for couples. No kids - no pets just a double bed, a wood-burning stove, underfloor heating and a few other additions to make your stay easier such as WiFi and a Bluetooth music system, Smart TV and Integrated USB chargers at the sockets. A small kitchenette includes an induction hob, small oven and fridge. The hot water is provided by a eco-friendly wood-chip boiler. The bathroom towel rail, is heated. 
But, just before you go, also know that a traditional Lakeland Pub is just 400 metres down the road towards the beautiful village of Grasmere. And then, there is The Yan Bistro, too...we did say that these Glamping Pods had a touch of luxury!
The Yan Bistro at Broadrayne - Grasmere
The Yan is a licensed Bistro and serves from breakfast to evening meal, or you can just pop along for a drink or maybe you are celebrating and fancy an Afternoon Tea? Tempted...check the Sample Menu for the Yan at Broadrayne

---
Crake Trees Manor Glamping Pods
This fabulous Hot Tub is available to hire when you book the pods
Crake Trees Manor is a designated Dark Sky area, so providing there are no clouds about then this is the perfect spot for star gazing!
Each unit sleeps two either in a double or two singles, which are made up from the daytime seating benches.  Kids can bring their sleeping bags and slumber on the floor or you could bring a mat too.   These pods aren't en-suite but there are good facilities just a short walk away, so do bring a torch.  A communal camp kitchen with hot water and low level solar lighting is also available, or if you prefer why not order a breakfast bap to be delivered to the door?
Each pod has a picnic table and a fire pit (stater wood provided) which can also be used as a BBQ. One dog per pod is allowed provided they are kept on a short leash. 
Being designated Dark Area there is no lighting provided so do bring your own lanterns/torches.  More detailed information about the facilities at this special location can be found in the FAQ here. 
Crake Trees Manor also has a rather glamorous wood-fired Hot Tub which can be booked separately and looks rather special indeed! Interested, take a peek here? 
What's in a name?
Have you noticed that these Glamping Pods at Crake Trees Manor are a slightly different shape? Some call them Wigwams and some call them wooden huts - if you'd like to see more Pods which are this shape then do check our Wigwam page too. 
---