Camping Barns - Bunkhouses - Bothys

in the


Lake District & Cumbria

These Bunkhouses, Camping Barns and Bothys are a fabulous way of exploring the more rural areas of Cumbria.  Many are on working farms and in the most scenic of locations. 

The most basic of these facilities are really stone tents but they vary considerably in terms of what they offer, indeed some are quite luxurious so do check what is included. 
Holme Wood Bothy - Cockermouth
National Trust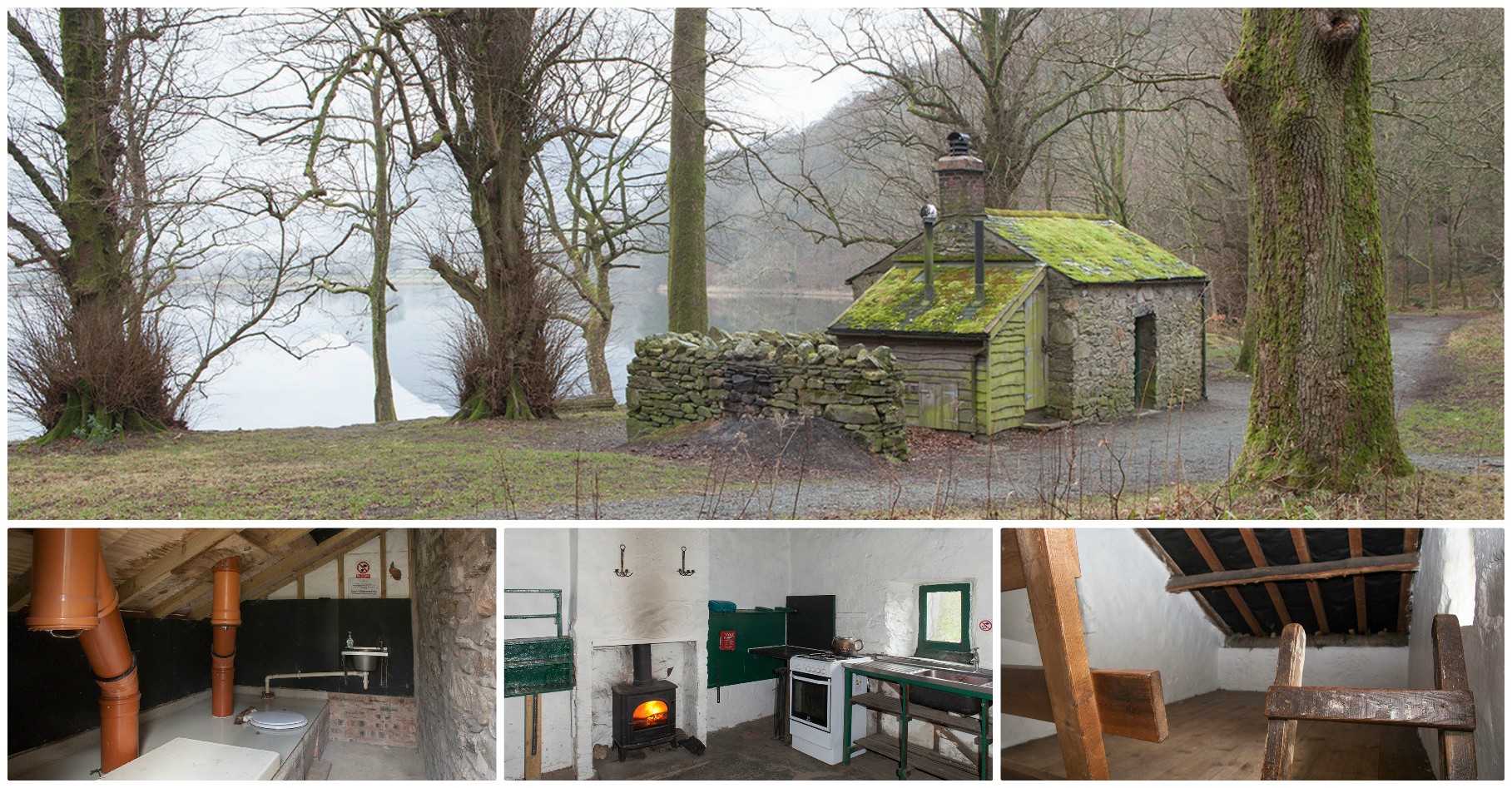 remote basic bothy in a fantastic location in Cumbria
What if you decided that you just wanted to get away from it all.  That you wanted just a roof over your head...maybe a wood-burning stove, and ok, maybe a gas stove to cook on too, but that was all. (You'll need to remember your cooking equipment).  Maybe somewhere to stargaze...to ramble...to teach your kids the beauty of nature...or to hang out with like-minded friends, then maybe this is that perfect location?
Owned by the National Trust and with a minimum stay of three nights, this basic bothy which, in the most idealistic of locations, really is the place to get away from it all, seriously ...there is no electricity and although there is a cold tap at the Bothy, drinking water is available from the nearby Ranger's workshop...remember this is all about getting away from it all. 
The sleeping arrangements are refreshingly basic too. Sleeping (maximum 6) is communal over two wooden floors, so do make sure you bring your own sleeping bags/linen and perhaps a mat and torch too. The upper sleeping platform is accessed via a wooden ladder so may not be suitable for smaller children or those with restricted mobility. 
The location is breathtaking and if you have your own canoe you are welcome to bring it along.  Parking for two cars is also available just a short distance away. 
Do go ahead and check full details of this beautifully remote National Trust bothy here. 
---
Wrostler's Barn
Coniston

Wrostler's Barn is one of those gems that you walk past and wonder about, and so the secret's out you can actually rent it!   What we love is that it has all of the charm of being really off the beaten in track with walks from the door, but in reality it is also just a few minutes walk through the woods from the car park and the road which traverses Coniston Water. 
What you get :  There are two sleeping areas which have double bedrooms with bedding included - there's also a Day bed and pull out trundle (please supply your own bedding. for these). The shower and composting loo are both outside ..don't worry they are enclosed and the shower is hot!  The kitchen is basic but has everything you need for 6 including cutlery.  There is running cold water in the kitchen and hot when the wood-burner is lit! Just a note that as Dodgson's wood is a protected site no wood must be gathered from outside. In fact John and Marie are  very involved in the environment in which they live, from the way they farm right down to Wrostler's Barn. You can read more about them and how they are working to protect not just the environment but about ethical farming, too, here. 
If you like the idea of staying at Dodgson's wood camping barn then you can read more about it, including the fine print of what is included if you book the barn, more photographs and of course availability here. 
One last thing..... they also have a wonderful on-line shop...everything from wool to the most wonderful soaps.... take a peek here...the perfect present for anyone who loves ethical .... Cumbria.... the perfect gift for yourself too of course! 
---
Dacres Stable Camping Barn

 
Eden Valley area
about 7 miles north of Kendal
At the south of the Eden Valley on the edge of the Lake District National Park is a lovely corner of Cumbria. A twitchers paradise with quiet lanes for cycling and walking, dreaming and reading.
Dacre's Stable Camping Barn is non-smoking and sleeps up to 8 (2 downstairs with disable access) and has been designed as a flexible space for families or groups of friends. There is also space for one camper-van, with hook-up, by special arrangement.
The ground floor, which is accessible for those who are disabled, sleeps two in a screened off area in a double bed. Also on the ground floor is the sitting area which has a wood-burning stove (1st basket of logs provided free) linked to the hot water system, table, kitchen space with double hob, microwave, small oven and fridge. Please note no WiFi and mobile phone coverage is very variable. 
The Wet room which has underfloor heating along with a shower and toilet is also on the ground floor.
Via an outside access is the upper floor which is one large room with two sets of bunk beds, a single bed and additional mattresses.

Crockery, jugs, pots and pans etc are provided for eight people.
Pillows are provided but visitors should bring their own towels, sleeping bags and pillow cases

The big barn south of Dacre's Stable can provide storage for bicycles and even play space for children on bad weather days (do these really exist?!). The barn can also be made available as workshop space for groups, by prior arrangement.
This camping barn is in a rural location. There are a good number of Pubs and restaurants within eight miles, though the nearest is six; Morrisons is the nearest supermarket, just north of Kendal. 
If you are walking or cycling to Dacre's Stable, are able to buy in food supplies for you if you let them know in advance.
Please note, it is also really important that you shut the gates on the lane, as the neighbouring farmers depend on these for the security of their livestock. For this reason, visiting dogs other than Guide dogs, are only allowed by special arrangement - sorry!
Dacre's stable can be booked mid-weeks, weekend or whole weeks, with a minimum 2 night stay. Booking and further information can be found here 

---
Abbot Park Camping Barn


between the southern tips of
Coniston and Windermere

These two barns with a postal address of Ulverston are south east of the southern end of Coniston Water and south west of the southern tip of Windermere, so they are somewhere between the three. But, that's how it is in rural Cumbria and that's what we love! 
Each of the barns comprises of six made up beds and have the luxury of a wood burning stove. Hot water, electricity, shower and very good toilets are additional bonuses. Cooking facilities include crockery & cutlery along with a single electric cooking ring a  microwave, kettle, toaster and fridge.

We love that the Tea Room at Abbots Park site is also able to provide evening meals which can be cooked and left in the fridge for your arrival....now that's rather a nice touch!

Emphasis at Abbot Park is on enjoying its idyllic rural location and in accordance there are a few site rules which you should read before you book. 
Further details and of the Abbot Park Camping Barn including more photographs and contact information can be found here. 
---
High Wallabarrow Camping Barn - Duddon Valley

High Wallabarrow is in the pretty Duddon Valley, an ideal base for walking, bird watching, mountain biking or just enjoying the tranquility of a slower pace of life. Dating back to the 17th century this former farmhouse has been restored by the National Trust to provide a rustic back to basics base for you to enjoy.  
The sleeping accommodation is a stack of 10 mattresses on the first floor and the loo and shower are in a separate building outside and hot water is available via a £1 meter (read more on their website here.). 
The ground-floor boasts a wood-burning stove (wood can be bought 'at cost' price).  A four ring cooker, fridge, toaster and kettle provide the necessary luxuries for what is effectively a stone camping tent! There is also a selection of crockery, cutlery, pots and pans etc too.
High Wallabarrow is keen to be green and encourages you (particularly in light of their septic tank) to use environmentally friendly products and to be careful with your recycling, we encourage you to read their ideas on how best to deal with this on their website here. 
Dogs (on leads) can be accommodated by prior arrangement and groups with children younger than 5 are asked to book for sole use. 
There are two pubs nearby, the Newfield Inn which is a fifteen minute walk through the Wallabarrow woods and the Blacksmith Arms which is well known for its good food a 4 mile drive. 
For further information including availability and booking procedures can be found here. 
---
Great Langdale Bunkhouse - The Langdales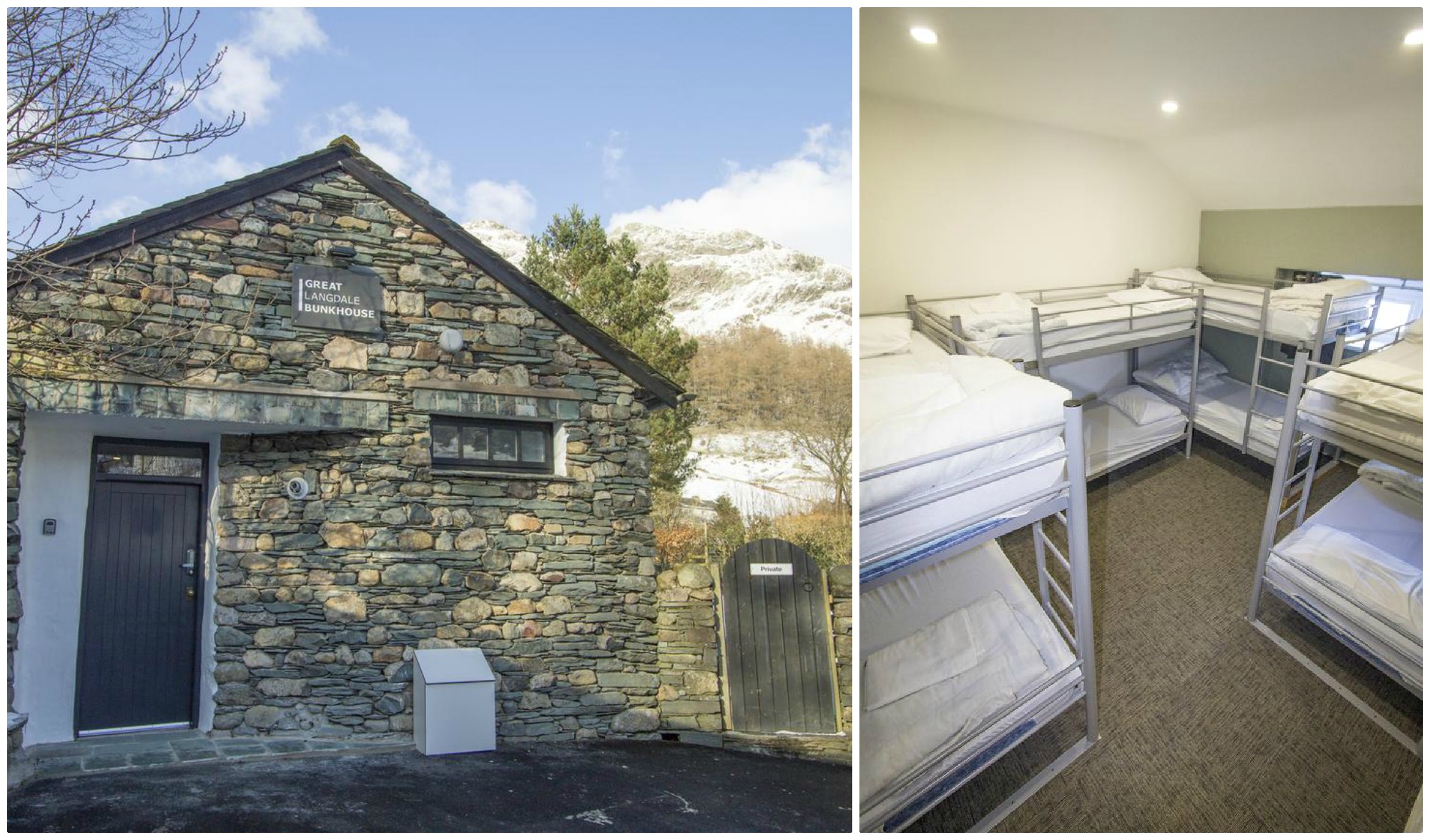 Location - Location - Location Lagndales!
What a super location. Walks from the door can't really get much better than this and what's more there's a pub for good Pub Grub next door too!
So this is what you get.  The Great Langdale Bunk House is a no frills affair.  There are three double bunk rooms (1 x bunk bed) and two dorms with 6 beds (3 x bunk bed). All rooms have a double plug socket and a kettle.  Linen, duvet and cover, pillow and pillow case are included His and hers showers and toilets. 
Dogs are welcome but must not be left alone in the bunkhouse and must be kept on leads whilst out walking. 
Parking for 6 cars (National Trust, so don't forget your car sticker!)
What to note : There are no communal areas or outdoor areas...unless that is that you count the Langdale Valley, in which case you'll have no shortage of outdoor space!  The other point to note is that there is no kitchen. However, the Sticklebarn Tavern and the New Dungeon Ghyll are right next door. 
One last thing.... The Great Langdale Bunkhouse is all about the location. Its for walkers and those wishing to enjoy the tranquil space....so if you are looking for a space for a boozy weekend, this isn't it....
More detailed information of this Bunkhouse can be found here.  
---
Blakebeck Farm Camping Barn 

between


Keswick and Penrith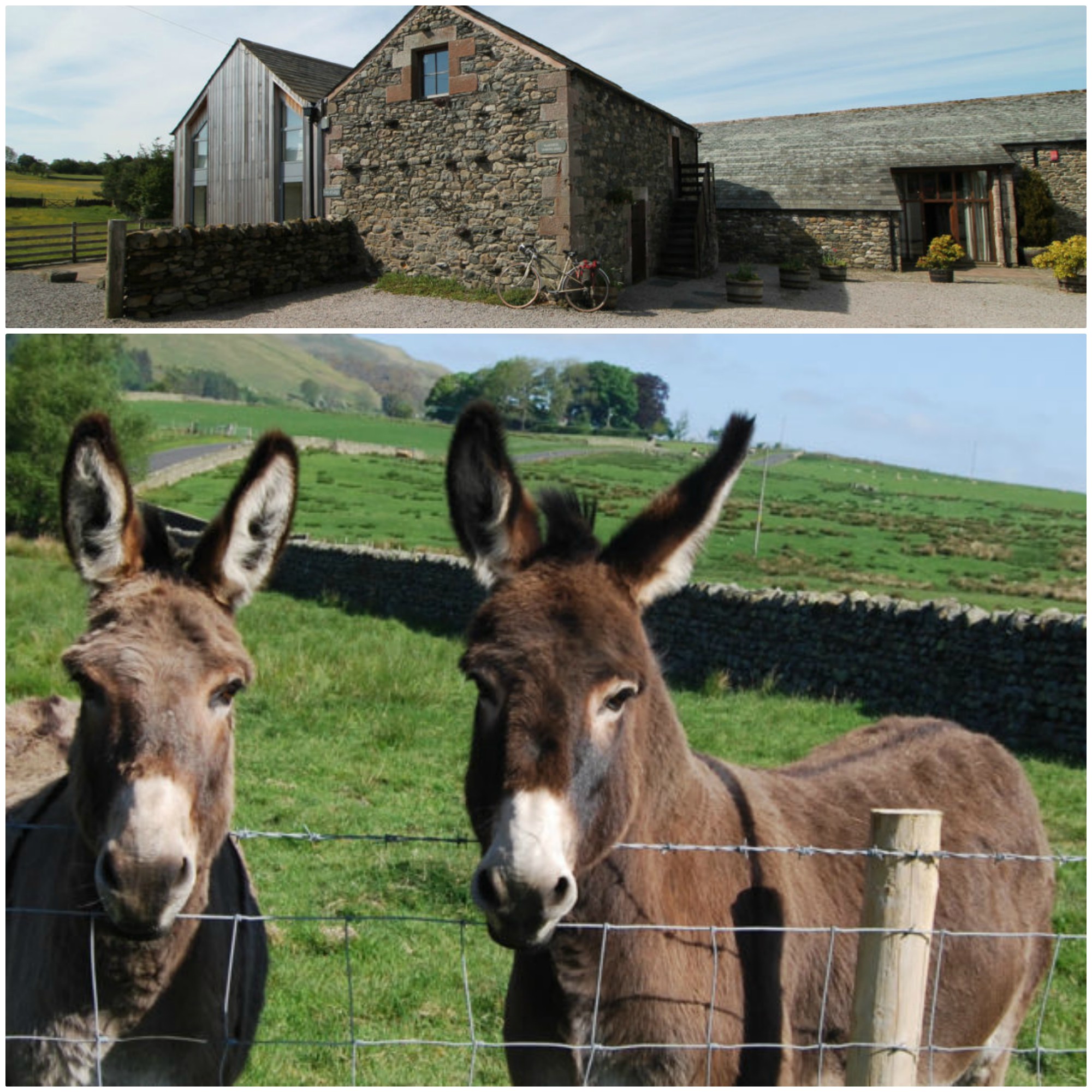 Between Keswick and Penrith sleeps 10
Converted by the YHA to be a simple camping barn for cyclists and walkers, Blakebeck Farm is also home to these two donkeys!
The camping barn is on the C2C cycle route and about halfway between Keswick and Penrith. 
On the upper floor is a wooden floored dorm with stone walls, which sleeps 10 in bunkbeds (bring your own sleeping bags) and also has a large farmhouse table and chairs. The kitchen is also on this floor and comprises of a sink, ceramic hob, microwave fridge and toaster.  Cooking utensils, washing liquid etc are provided too.   The Downstairs room is ideal for recreation and can also double up as cycle storage. There is also a drying rack (heated by the farmhouse central heating). There are two toilet/shower rooms.  Hot showers are via £1 meter.   Heating can be arranged via hire of oil filled radiators.   
One well behaved dog can be accommodated if you have sole booking of the barn. 
Please note due to the close proximity to the owners own home, this barn is not suitable for hen/stag or similar rowdy groups. 

Which just leaves us to put a mention for the panoramic view which await Blakebeck Farm Barn and of course the link so that you can read the finer details, here. 
---
Fisher Gill Camping Barn - Thirlmere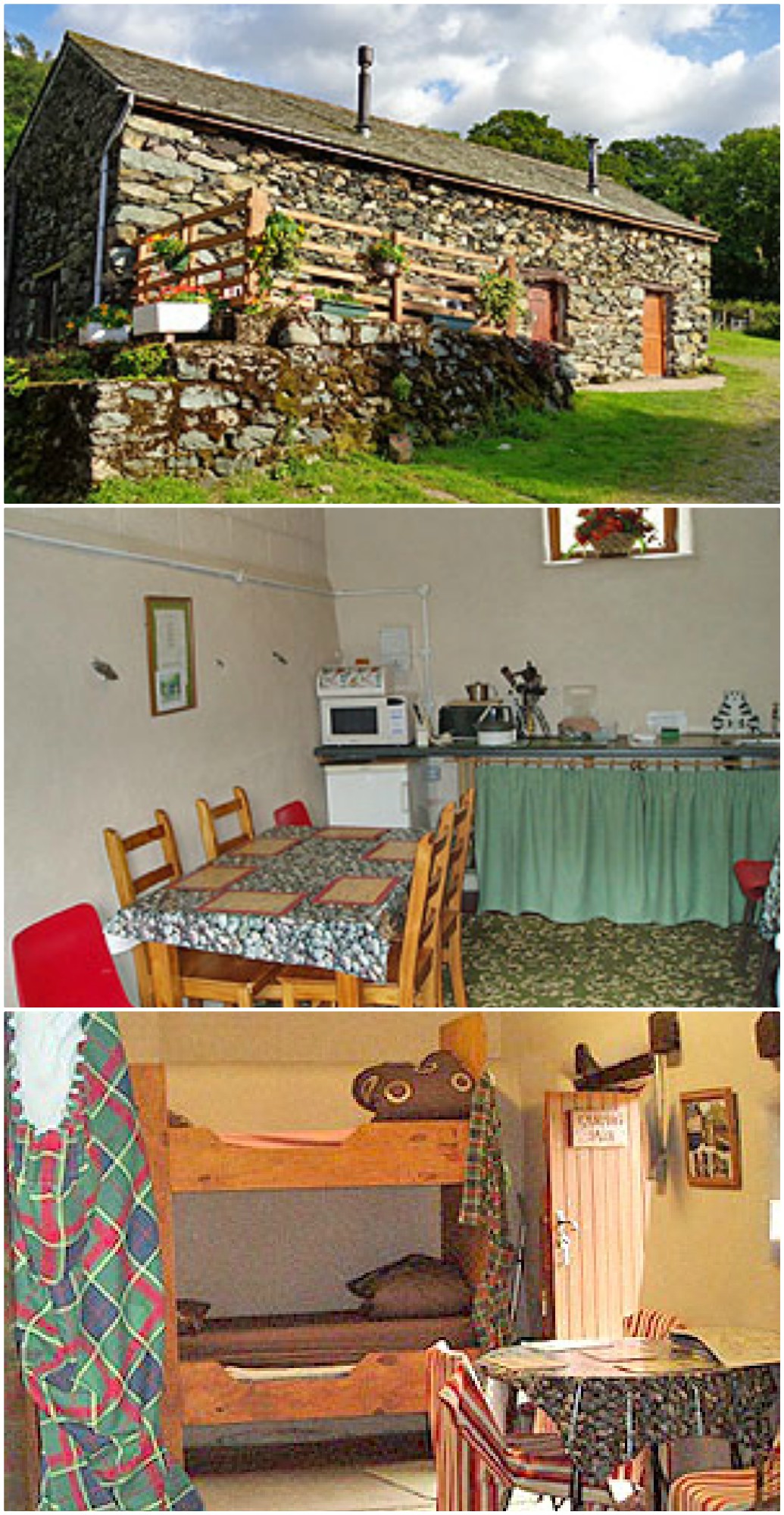 Rather a cosy feel, now to Fisher Gill Camping Barn which was once the sheep penning area of Stybeck Farm.  
The accommodation is bunk bed style (maximum 10) with mattresses and pillows provided, so you need to bring your own sleeping bag. 
A caller gas cooker, sink, kettle and microwave are provided, though with prior arrangement (+ additional cost) Breakfasts can be arranged via the Stybeck Farm B & B.  There is an electric shower too.  Please note that some of the electricity is metered and that heating is extra. 
There is car-parking at the barn and the National coach stop is approx quarter of a mile
Read more about Fisher-Gill Camping Barn and check availability here. 
---
Witherslack Cycling Barn
cycling barn in South Cumbria
Witherslack are determined that you will eat well and rest well whilst with them and this wonderful accommodation for either groups or the lone traveller (single room available at no extra charge on weekdays). Each bed comes with a sheet duvet, pillow and cover and a bath towel making travelling through Cumbria by cycle a lot easier. 

Breakfasts can be arranged by prior request, as can evening meal supplies.... there is also a pub nearby serving first class food...and pizza takeaways a couple of nights a week. 
A cycle store is available (please bring your own lock) and its possible to hire e-bikes from here too.  Rick, Steph and dog Toby have 20 + years experience of cycling and enjoying this area and are keen to extend this experience to you, so check out more of these wonderful facilities at Witherslack here. 
---
Wandendlath Bothy

National Trust
between Thrilmere & Keswick
In a small hamlet close to Watendlath Tarn between Thirlmere and Derwent Water, this Bothy is National Trust owned and can sleep six.  Minimum stay is for three nights and preferred change over days are Mondays or Fridays. 
Bothy's are all about being basic and this one is no exception, but you do get a wood-burning stove (some wood supplied but you may want to bring more) and also has table chairs, bunks...but do bring you own mats, pillows, sleeping bags and other linen.   
A small basic fridge, four ring cooker and table and chairs are provided but you will need to bring all other 'camping equipment' with you.. minus the tent of course!
The bothy has a loo and a shower and a couple of parking spaces if you are going to arrive by car. 
Full details of the Bothy and availability can be found here. 
---
Cragg Barn - Buttermere

Beautiful, tranquil Buttermere. So many walks from the door from this traditional Lakeland Barn and you have The Bridge Hotel for bar snacks just a short walk down the road if you don't fancy cooking. 
Sleeps 8 with metered shower for hot water and just a cold tap in the cooking area. This is one of the more rustic Camping Barns and literally everything you would need to take with you for camping you will need to bring with you.  There is plenty of parking, two pubs within walking distance and two lovely lakes!
More information of this very wonderfully rustic barn can be found here. 
---
White Horse Bunkhouse - Threlkeld - Nr Keswick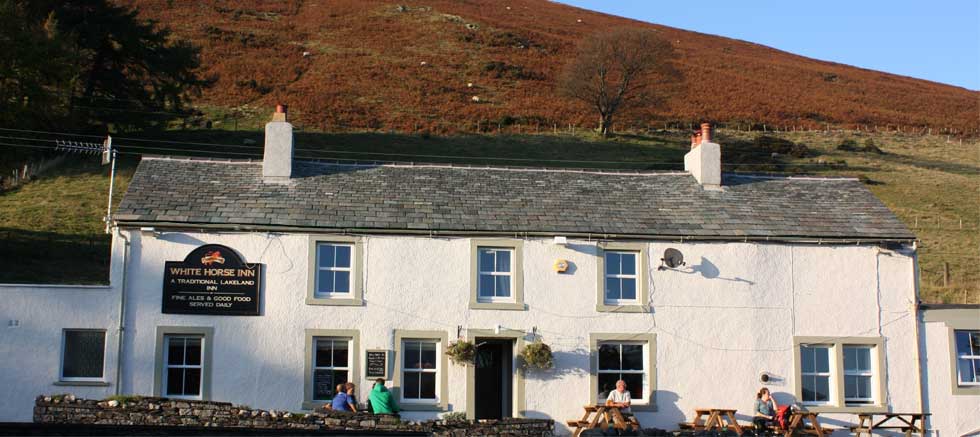 Bang next door to The White Horse Inn (which serves food daily) and at the base of Blencahtra, is the White Horse Bunk House which is popular not only with hikers but C2C cyclists too. 
The accommodation is in four stables which have been converted into bedrooms, two of these sleep 6 people, one sleeps 8 and one stable sleeps 4 - all of which are bunks.
There is a basic kitchen with a hob, fridge and microwave along with a communal dining area which can see 16-20 people. Other facilities include a his & hers toilet block / basins / showers and a coin-operated dryer.  The Pub is open from 11 am - 11 pm, servers food, hot drinks....& of course beer, is open every day and has free WiFi!
For more information and booking check out the White Horse Inn website here. 
---
Bowderstone Bunkbarn - Borrowdale - Keswick
(part of the Calvert Trust)
The Bowderstone Bunkhouse is a no-fuss accommodation option for walkers, climbers, cyclists, Duke of Edinburgh students....dogs are allowed too!
Sleeping up to 12 in bunks.. you'll need to bring everything with you. Sleeping bags and a sleeping mat would be ideal, for as you will see from the photo above mattress are not provided, though two wood-burning stoves to keep you toasty warm are. The kitchen has two x two ring hobs and a fridge and microwave along with a selection of pans and basic cutlery and crockery. 
The bunkhouse is accessible by foot, cycle and wheelchair via a 600m path which is steep in places (you may wish to check with them directly here for more information on that) and there is also a National Trust car park five miles south if you are arriving by vehicle. Being part of the Calvert Trust the Bunkhouse does cater for disability groups and more information on those activities along with more detailed information on the bunkhouse in general and of course availability and Tarif can be found here. 
---