Independent Hostels

in the 


Lake District & Cumbria

Independent Hostels are a fantastic way to secure decent affordable accommodation in the heart of the Lake District and throughout the lesser travelled parts of Cumbria too. Some of the Hostels were formerly Youth Hostels and some are purpose built or specifically converted.  

We love the high attention to detail, many have en-suite rooms making them ideal for families and whole venues can often be booked too, allowing for group bookings.  Take a look and if you can't find what you are looking for we also have a page showcasing Camping Barns, Bunkhouses and Bothy's which might fit the bit. 
Thorney How - Grasmere
Thorney How was a former YHA, in fact one of this Hostel's claim to fame is the first Hostel to have ever been bought by the YHA.  Quite fitting, then that it is still welcoming travellers and offering good quality affordable accommodation in an enviable location on the edge of Grasmere with walks quite literally from the door.  
Guests a normally blown away by the quality of the coffee and the delicious food on offer, here too! 
There are 11 bedrooms allowing a huge flexibility of sleeping arrangements including en-suite, family friendly rooms and even rooms with double beds as well as small dorms of 6.  There is also a bunk house which sleeps up to 16. 
A biomass central heating system has been installed and all of the delicious food prepared here is all locally sourced and may even be out of Thorney How's own garden poly tunnel. 
This Grade 2 Listed building, which Dorothy Wordsworth is thought to have enjoyed the grounds of, really is a wonderful balance of conserving the heritage of the past and conservation of the planet. 
We mentioned earlier that a lot of thought has gone into providing really good quality food and coffee, but we should also mention that they have a very well stocked bar too! Serving pints from local micro-breweries in addition to good reasonably priced wines and a range of interesting soft beverages too. 
Hens, ducks and rare breed sheep all add to making Thorney How a perfect location whether you are walking or cycling through or here for a more extended stay.  If you are just passing through then you'll be please to know that non-residents are welcome, but if you are a larger group, please do book in advance. 
Lots more information including the small print and booking etc can be found on the Thorney How website just here. 
---
Elterwater Hostel
There is just something about the Elterwater Hostel! Everyone of their staff (as in so many other hostels I should hasten to add!) wanting you to really enjoy your time with them.
Their website is steeped with lovely information including its history 
" during the Second World War it was used as accommodation for workers of Shorts of Sunderland involved in building flying boats on the lake at Windermere...things were a bit primitive there then, and when the the water froze in the winter, or ran out in the summer, the men living with us had to go down to the river to wash and shave … There was no electricity in the Hostel and we used candles to go to bed with and paraffin lamps in the main rooms"

which you can read more of here. 
Rooms vary from two beds to six in a room and there are two newly refurbished unisex showers in addition to the his and hers facilities too. 
In addition to the communal lounge / diner you'll find a well equipped self-catering kitchen (catered stays available too), drying room and cycle storage.  WiFi is available in the public areas and some the rooms. 
The Hostel is a short walk from the local pub and if you need a car parking space then then the National Trust car park is just a 100 meters, free of course to members or chargeable by the day.  
The staff are brilliant, Nick is on the Mountain Rescue Team and with extra training from those skilled has been able to take part in administering CoVid vaccinations. The location is idyllic and the reviews glowing...you can read some of them and check for availability here. 
Bottoms Bunk Club!
at
Elterwater Hostel
Yes! you did read that correctly and what an utterly fabulous idea this is! 
If you love the whole ethos of Hostelling but the reality is that you really would rather not climb on to a top bunk anymore then the friendly crew at Elterwater Hostel may have just the perfect offer. 
You gather a group of your like-minded friends (minimum group size is 10) and book the whole hostel for a mid-week break (Mon-Thurs) for a minimum of 2 nights...and you all get a bottom bunk! The offer runs during November or December and includes Bed, Breakfast and one of Elterwater Hostels delicious Dinners too, with perhaps Nick's sticky toffee pudding!
Like the sound of a Hostel holiday in beautiful Elterwater?  Read more here. 
Carlisle City Hostel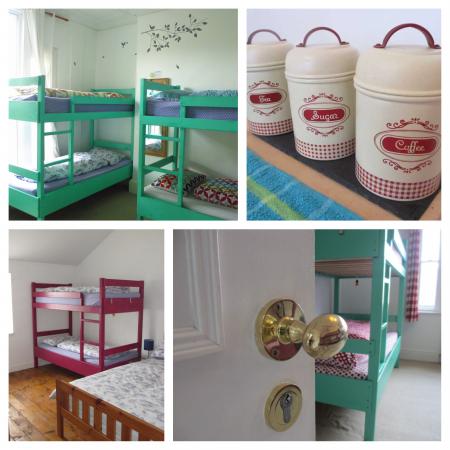 Carlisle City Hostel
Cath and Jono opened Carlisle City Hostel in 2013 and this duo have certainly created a bright and welcoming Hostel - in their own words somewhere they'd love to stay themselves and the words of a Trip Advisor reviewer  - 'Potentially the Hostel Jewel of the North West' read the review here. 
The Hostel offers free tea and coffee and a basic breakfast and can also organise to do your washing for you too! The higher floors offer both a family en-suite and a private room if you don't fancy dorm life. 
More information about this lovely bright accommodation can be found here. 
---
Kendal Independent Hostel
Kendal Independent Hostel
This Georgian building is situated right on Kendal's high street which makes arriving by public transport easy and a huge range of independent cafes, pubs and restaurants right on the doorstep, if you don't fancy cooking yourself.  
Its also next door to the Brewery Arts Centre which is an excellent place to unwind and loved locally for its wide range of entertainment. 
Continental breakfasts are available for a nominal donation and if you fancy a cooked Cumbrian breakfast then these can be pre-ordered for groups of six or more.  

The accommodation is varied, though mainly bunk beds and over four floors (there are three ground floor rooms) including single sex dorms, some mixed dorms as well as some double and family rooms too.  
The Hostel has a huge range of inclusions such as WiFi, free tea & coffee, a pool table, drying room etc - please check out the up-do-date list here. 

There is also a secure bike shed and some rooms are dog-friendly too - please enquire when booking. 
More information including how to book and current prices can be found on the Kendal Hostel Website here. 
---
Wayfarers Hostel - Penrith
Wayfarers Hostel - Penrith
A great location for anyone cycling the C2C as Wayfarers are all geared up for transporting your luggage for you too, if you fancy less baggage on your ride.
There are lots of great bonuses at Wayfarers, including a bike rack and bike storage, free WiFi and USB charge points in all rooms.  A lovely large modern kitchen for residents use and a continental breakfast for a nominal fee is available too. 
There are two bikes for hire which come complete with a helmet, lock and puncture repair kit too.  Wayfarers also has an electric car charge point.
Wayfarers gets great reviews which you can read here.  The Wayfarers website with further information about availability of rooms, they have a twin room available in addition to dorms, right here. 
---
Derwentwater Independent Hostel
This beautiful Georgian GradeII listed buildings is on the shores of tranquil Derwent Water....could anything be more perfect?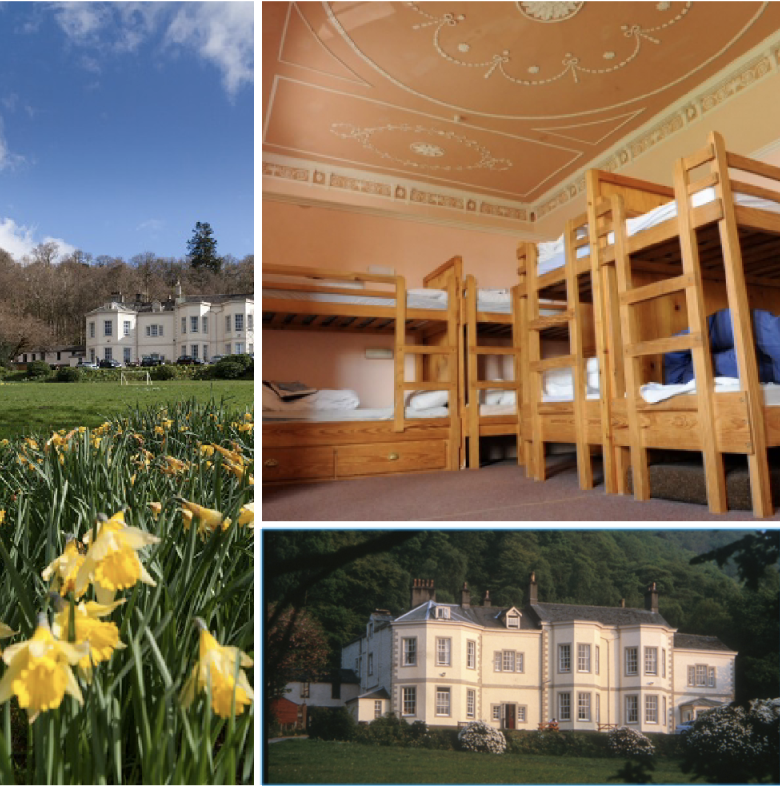 Set in 17 acres with an impressive 108ft waterfall and views across beautiful Derwentwater and a backdrop of woodland and mountains, with access to the Lake Shore. the ethos is all about flexibility here.
Whether you are passing through for night on the C2C, attending one of the many fabulous festivals in Cumbria or looking for somewhere to host a training session, or use as a base for a family walking holiday, Derwentwater has a flexible approach whether you are an individual, a family or school groups or want to book exclusive use. 
You choose whether you want to be catered for, they have great reputation for providing good food,  they also have an alcohol licence, but please don't consume your own alcohol at the Hostel, or if you prefer you can self-cater in the dedicated kitchen. 
Sleep wise there are 11 rooms with a total of 88 beds, of which 43 are bunk beds plus 2 single beds. Rooms can be either single-sex dorms or family rooms depending on your needs.  
Derwent Water Hostel is so much more than an over-night stay and they are set up with a whole range of resources to help you host events - take a look at previous experiences and activities here.  
---
Kirby Stephen Hostel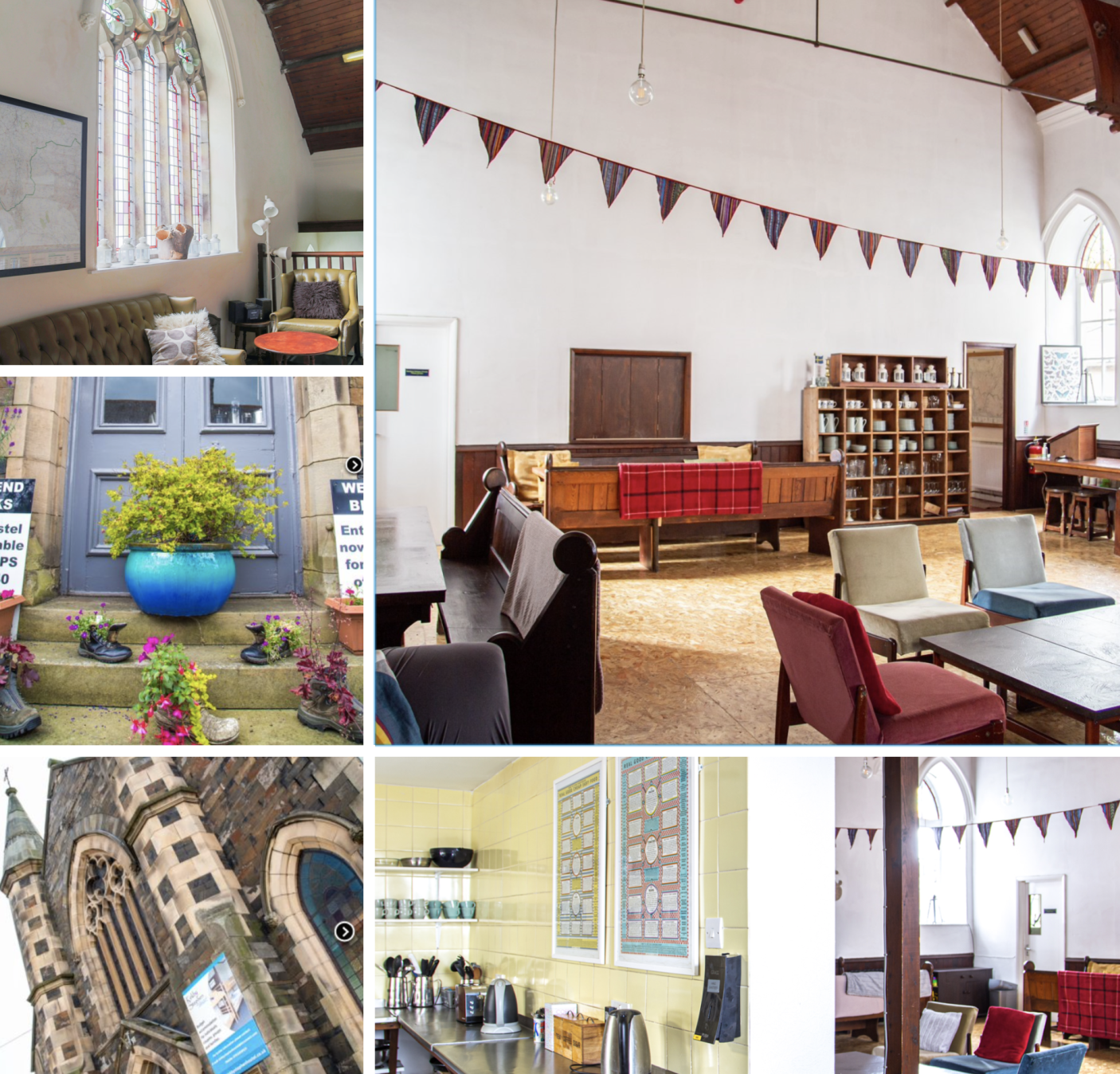 Kirby Stephen Hostel is quite an extraordinary find! Retaining its lovely stained glass windows from its original build as a Methodist Chapel the space is now a welcome haven for walkers, cyclists, family reunions and kids and dogs are welcome too!


Meals for groups of 4+ can be arranged in advance or you can self cater as there are two fully equipped kitchens. Canoes and cycles have their own secure storage room and there is a drying room for muddy boots and dripping jackets. Everything taken care of, whilst you relax on one of the deep sofas, with the free Wifi.There are 8 rooms which range from twins and family rooms to dorms sleeping 8.
Great location for the Pennine Bridle / Cycle Way. The Cumbria Cycle WAy, W2W cycle route, Coast to Coast walk and Lady Ann Clifford's Walk.
For more photographs (really we wanted to show you all of them) and for booking and full details of the Kirby Stephen Hostel which has recently been listed in the Rough Guide of best budget paces to stay in Britain, these can be found on their website here. 
---
The Duddon Sands Hostel
at
The Ship Inn

The Duddon Sands Hostel is purpose built and in a great location in the grounds of the Ship Inn, overlooking the Duddon Estuary.
There are 16 beds here and The Ship Inn staff are also keen outdoor enthusiasts so do ask them for local knowledge. Facilities include good hot showers, a self catering kitchen/diner and a large cosy BBQ Hut (available for hire at a discounted rate) making this venue fantastic for family reunions as well as outdoor enthusiasts.
If you fancy a break from self-catering, the local Indian and Chinese restaurants will deliver to the pub - sounds pretty perfect to me! The Hostel is open all year around but the pub is closed on Mondays Tuesdays and Wednesdays.
If you need to visit the Gent's whilst you are at The Ship Inn, don't be alarmed if you bump into Elizabeth the Ship's Inn Ghost 

*Please note that with the exception of the beef garden, both the Hostel and The Ship Inn are entirely Non-Smoking
Further information including how to book can be found on the Ship Inn website just here. 
---
New Ing Lodge
B & B and Self Catering Hostel
Shap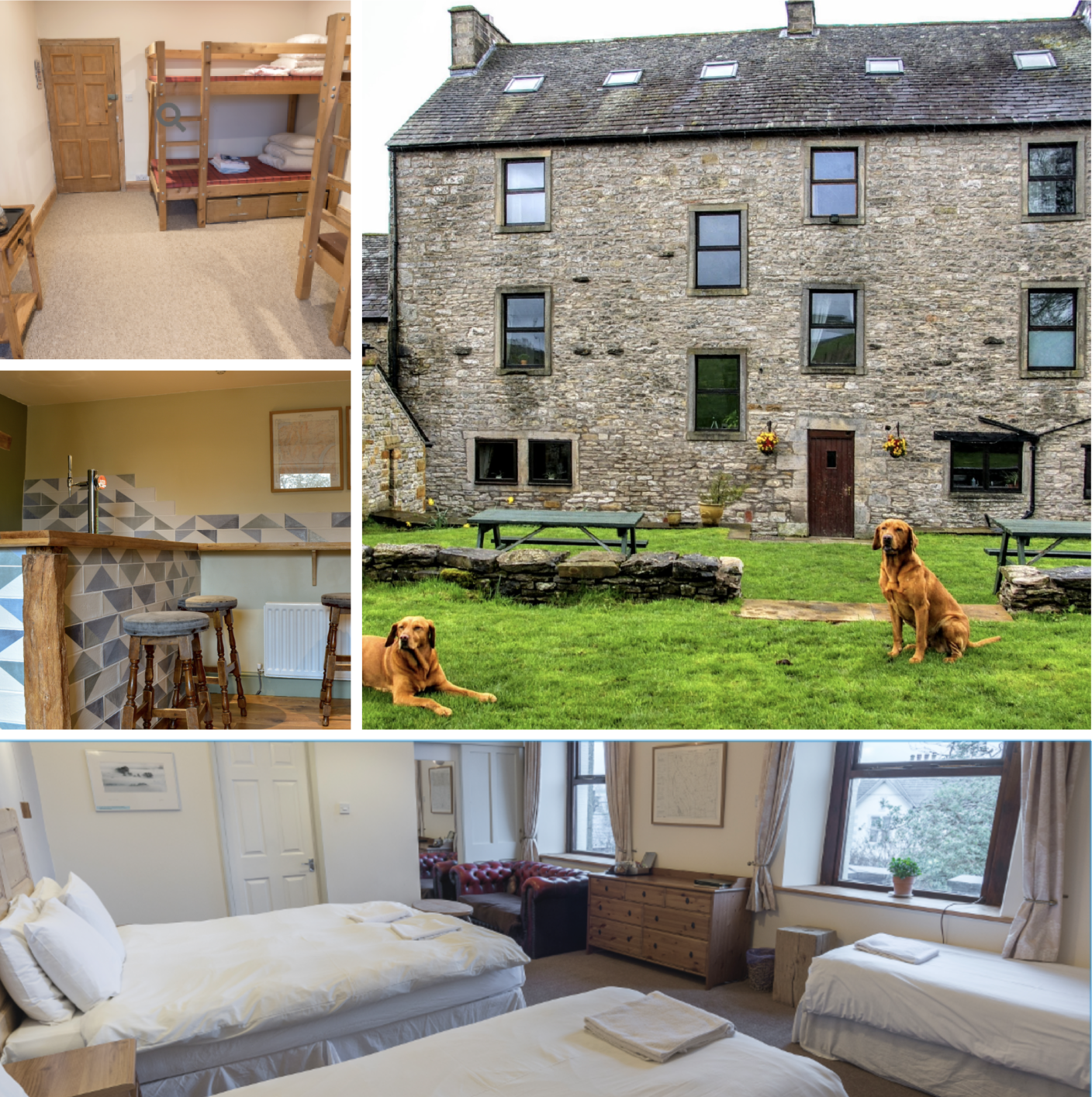 The New Ing Lodge is a hybrid if you like - during the season from March to October it operates as a Bed & Breakfast and then for the rest of the year you can book it as a hostel/self-catering accommodation - there is camping available too!
The rooms as you can see from above vary from dorm style to B & B style which are en-suite. Breakfast is available for all with good vegetarian options as well as a Full English! New Ing is also dog friendly and can be booked for exclusive use. 
Consistently glowing reviews from previous guests singing praise for the warm welcome as well as the outstanding accommodation in Shap and they are also committed to being as environmentally friendly as possible and they have been awarded The Gold Star Award by Green Tourism  in addition to the Outstanding Commitment to Responsible Tourism award by Nurture Eden. 
The Staggering Wanderer bar has local beers on tap and a wood-burning stove in the communal lounge to keep you cosy. 
As these rooms vary through the seasons we'd love you head over to the New Ing Lodge website here, just so you can see for yourselves what each room has to offer at each time of year. In particularly the catering facilities - packed lunches can be ordered for the following day - read about good places to eat in Shap here. 
---
Bury Jubilee Outdoor Centre
Glenridding - Ullswater
The Bury Jubilee Hostel is a purpose built hostel which is in an enviable position for exploring Ullswater and the surrounding fells, including of course Helvellyn. 
Though priority is given to groups from Bury other groups may book this superb hostel too
The centre is self-catering accommodation with a large modern kitchen containing bunk beds for 28 people, with extra provision on the ground floor for  2 persons requiring disabled facilities .
The nearest village, Glenridding, is on the shores of Ullswater, in the north-eastern quarter of the Lake District
The centre has oil fired central heating throughout and there is an additional wood burning stove (please bring own fuel). Facilities at the Jubilee Centre include a modern kitchen with a large gaz cooker, fridge, freezer, kitchen utensils and crockery, plus lounge area and table and chairs. There is also a utility room with a washing machine and drying room. WiFi is available but can be intermittent. 
The Hostel can accommodate 28 in bunks including 2 beds, on the ground level, which along with the rest of the ground floor is fully accessible for wheelchair users including bathroom facilities. 
On the first floor there are three dormitories with bunk beds and mattresses sleeping 12, 10 and 6 people; each with its own shower and toilet facilities. Please provide your own sleeping bags and pillows.
Further details of the Bury Jubilee Outdoor Centre and how to book can be found here. 
---
Denton House - Keswick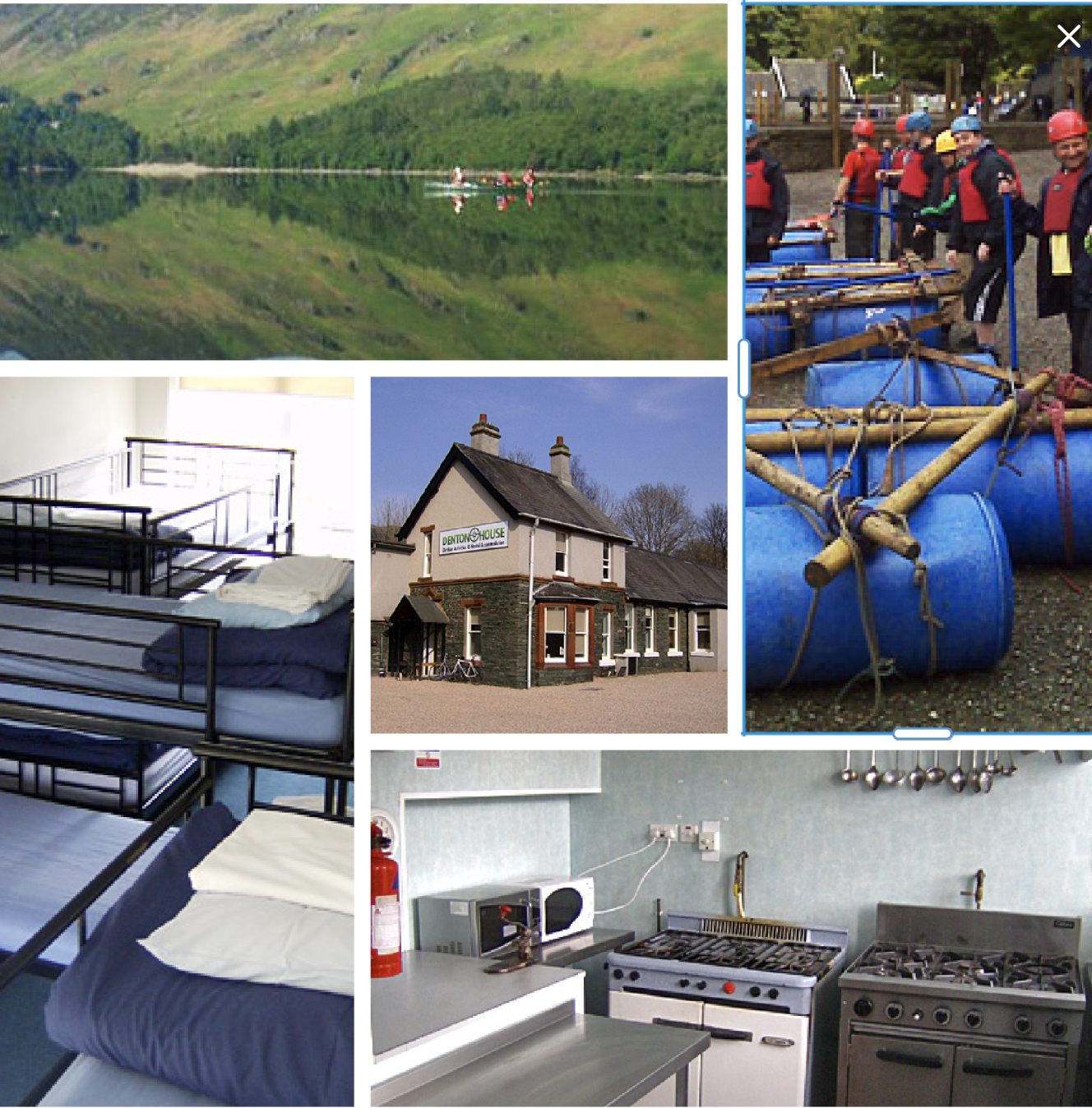 Denton House can be booked just for one for one night or you can take advantage of their expertise and ask them to organise one of their fabulous outdoor activities for your group - whether that's Duke of Edinburgh, a group of friends or for a fun family break!
Activities range from guided walks to ghyll scrambling and abseiling! A full list of their activities and how you can book them can be found here. 
---
Lakes Hostel - Windermere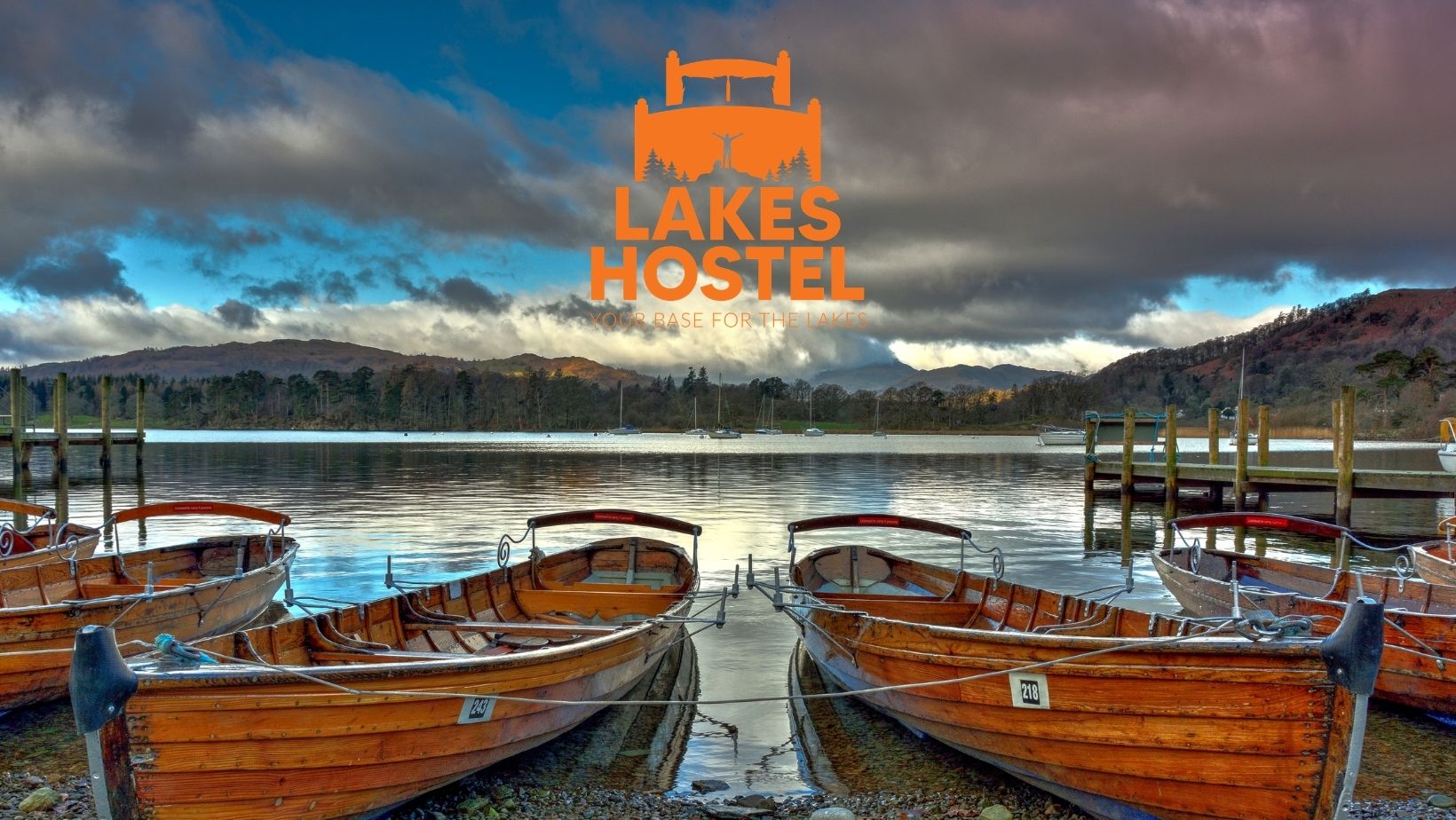 The Lakes Hostel is in the village of Windermere - literally just a few steps from the railway station so a perfect location for you to explore the Lakes and not need to have your own or use your own transport. 
Literally just renovated and ready for you! So new showers, comfy mattresses with good linen.  WiFi and charging stations. The kitchen is fully equipped and includes an induction hob, oven, microwave and all the crockery and pans to self cater.  It also provides the staples such as coffee, tea, milk, oil etc but with its village location you may prefer to simply step out of the door to sample the exceedingly good cafes and bar for which the Lake District is becoming well known. 
There is no parking at the Hostel and please bring your own lock for the lockers and bike storage.  
More information of this beautiful and fully refurbished Hostel in Windermere can be found here. 
---