Yurts
  in the
Lake District
These Yurts are a magical way to explore the whole of Cumbria, not just the Lake District National Park.  With so many choices from, back-to-basics eco-camping to real Glamping, or perhaps a mixture of the two?
---
Croglin - Dry Beck Farm


nr Armathwaite - Eden Valley
Glamping Yurt with Hot Tub in the tranquil Eden Valley
This beautifully furnished Glamping Yurt was hand-crafted from locally grown timber and has been furnished with a combination of vintage and recycled fabrics, in the tranquil Eden Valley. 
With its own wood-fired Hot Tub, fire-bowl outside, and wood-burning stove in, this beautiful Yurt is a perfect romantic retreat, yet with additional bedding would work well for a family of four too.  One-well behaved dog can be accommodated (at a nominal cost), just check with the owners first.
There is a private shower and compost Loo and private Kitchenette too. The kitchenette is very well equipped with a fridge (yes, a fridge!), hob/oven and even running water.  
Drybeck Is about a mile and a quarter to the village of Armathwaite which has two pubs and a well-stocked village shop which sells papers, is also the Post Office and Off-Licence too.  
Further information of this beautiful eco-Glamping Yurt can be found here. 
---
Inside Out Yurts




Seatoller


Borrowdale Valley - nr. Keswick
Quiky Camping - Yurts - Sleep 4/5
In a rural setting, these beautiful Yurts are equipped with wood-burning stoves, futon beds, wooden floors and scatter rugs and are built to stand all that the British weather can throw at them.  
They are 16ft in diameter and tall enough for you to walk upright inside - they can even be pet-friendly, too (though do chat to Simon in advance to arrange that). It really is no wonder that these Yurts in the beautiful Borrowdale Valley  are getting glowing reviews. 
The farm campsite is next to a small stream and has hot showers and the all-essential clean loos!
The Yurts have a complimentary Gaz-Stove with cooking equipment as well as dining crockery and cutlery, or you may prefer to book a table at the Langstrath Inn, which is just a few minutes away by car (1.25 mile).  Further afield, the bustling market town of Keswick (approx 15 min drive) has so much to offer from the well known supermarket chain of the North, Booths, to all the lovely cafe's, pubs and local shops too.  
It is possible to get to Seatoller by bus, or of course cycle or walk here! Simon has added lots of useful information relating to what is and isn't included at these wonderful Yurts, and this can be found here. 
 * Please do note that there is no electricity at the campsite and practically no mobile signal either....

Interested? Then do go check out the Inside Out Yurt website which has all the up-to-date information including of course tarif and availability, right here. 
---
Full Circle Yurts - Rydal
Traditional Mongolian Yurts which have been very well equipped and can sleep up to 6
These are traditional Mongolian Yurts, in fact they are made with 5 layers of fabric and can withstand Mongolian winters so you don't need to worry,  be as toasty warm, well just so long as you stoke you wood-burning stove.
The Yurts can sleep up to 6.  A double bed with duvets and pillows and linen in bright Mongolian colours - two singles can be added for families and if you wish to extend the occupancy to six then just bring a bedding mat and sleeping bags for the remainder of your party. 
Set in the grounds of Rydal Hall (which itself offers Christian retreats) and has its own organic vegetable garden is a superb tranquil backdrop for these traditional Yurts. 
The Yurts are really well equipped, with crockery and cutlery and cooking utensils. A gas hob and you can even use the freezer at the Hall.  You'll need to bring your own towel but all bed linen (for four beds) is included along with wood for the wood-burner.  The loos are close by recently refurbished with underfloor heating (!), are cleaned daily and have use solar powered hydro-electric energy. A water carrier is provided for your use and a water pipe is just a 100m or so from the yurt door supplying super fresh (UV treated ) water for you.  Each Yurt also has its own picnic table with a decking area and brazier to keep you lovely and warm whilst watching the night skies. 
Ben Atkinson, owner of Full Circle Yurts has a passion being at one with nature and everything about Full Circle Yurts is in keeping with this ethos. Ben is a local fire fighter as well as a tree surgeon, so its good to know that the logs you'll be burning are ethically sourced. He's a keen open water swimmer and can definitely point you in the right direction if you fancy a waterfall or river dip. There are a also a number of activities which can be booked via Full Circle Yurts to compliment your holiday, such as a 'Foraging and Cook-out' day, 'Guided Walks',  'Meditating with horses including 'Meditating with Horses' and a 'Packhorse Picnic', 'Yoga" and even a riverside 'Hot Tub and sauna'!
Cars are not permitted in the Yurt camping area, which are spaced so that everyone has their private space and oh, did we mention, a super view too! So they ask please do pack with this in mind...erm, no not the view (though do remember that although the Yurt can survive a Mongolian winter...if you venture out then you need to be prepared for the Lake District weather!). No, we just wanted to let you know that the Yurts are set on a fell side ground, and you will need to carry whatever you pack up to the Yurt by foot...so sensible shoes and minimalist packing are definitely the way to go. 
Talking about on foot, or indeed by cycle or public transport, you will receive a small discount if you do arrive by any of these means, both off the Yurt accommodation and off a cuppa at their cafe, too. 
What to find out more about Full Circle Yurts?  You can do so just here. 
---
Wild in Style Yurts


Eden Valley 

Nestled up in the north eastern corner of Cumbria, between the majestic Lake District and the pretty Pennines, Wild in Style Yurts offer you a slice of tranquility.
There are two yurts both with fabulous views and they each come equipped with crockery, cutlery and a double gas burner. This is back to basics, so there is no fridge but you can bring a cool box and pop that in the shade of the trees. 
More information about Wild in Style Yurts, including availability can be found here.

---
Syke Farm Yurts


Buttermere
Two very well equipped Yurts - Buttermere
Buttermere is undoubtedly one of the most beautiful and tranquil spots in the whole of Cumbria...or maybe I'm just biased?  These two Yurts are set in their own patch of ground just at the edge of the Sykes Farm Campsite, which has its own tea rooms (which serves a full Breakfast for campers) and with two pubs (The Bridge Hotel and The Fish Inn)  and another good cafe all within a few minutes walk.
They have been furnished the Yurts to such a degree that it would be easier to say what they haven't included than what they have! Each Yurt also has its own cooking hut and compost loo, showers are available on the adjacent campsite. 
Each Yurt can sleep up to four and basically all you need to bring is you, your torch, ice blocks for the cool box and if you aren't going to be eating at one of the cafe or pubs, then your food and drink too!
See exactly what is on offer at Sykes Farm Campsite Yurts here. 
---
Long Valley Yurts


Ullswater-Keswick-Coniston-Windermere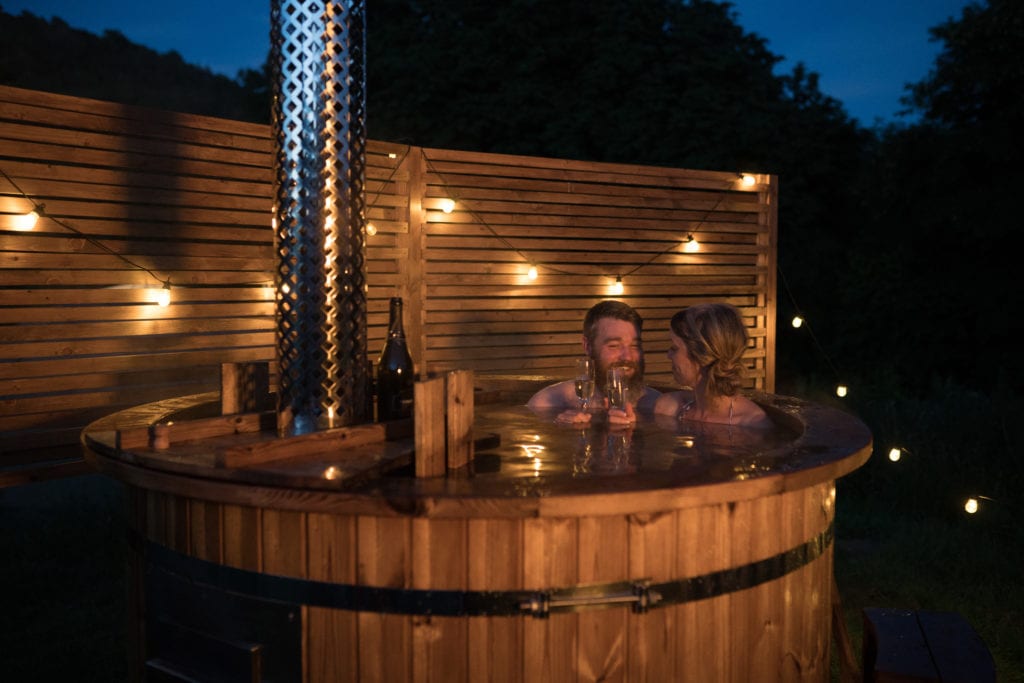 Coniston and Windermere Sites have Hot Tubs available too
Long Valley Yurts are at the above four beautiful locations in the Lake District
two of the sites also have Hot Tubs available for booking 
Each Yurt has a wood-burning stove with hot plate which is ideal for cooking, though they have and Gas hob too. They are decorated in a Moroccan style with rugs over the raised wooden floors and with fairy lights and solar lighting to give you that lovely back to nature but with a little Glamping feel too. Feather pillows and duvets all with freshly laundered linen turn the Futon from Sofa to bed and a central skylight adds to the romance as the lights go out. 
The kitchen utensils, crockery and cutlery will include everything you could possibly need for a Glamping holiday...(read more here) to the mop and a Games chest. 

Luxury Yurts at Windermere - Ullswater - Coniston & Keswick
Coniston

Patterdale

Hot Tub can be booked at this location

In the beautiful Duddon Valley on a quiet, off the beaten track farm campsite, which farms traditional Lakeland Herdwick lambs and sheep, though you'll find the farm is home to ducks, ponies and cattle too!  

The Yurts are situated in their own private field and Scandinavian wood-fire Hot Tubs are available here too. 

Although you will feel as though you are in the middle of nowhere, in reality a fifteen minute drive will have you at Coniston Water with its traditional Lakeland village shops and an ideal base to explore some of the lesser walked fells as well as Coniston Old Man itself. The village of Broughton has bakers and butchers and if you want to eat at the Blacksmith Arms its definitely recommended that you book ahead. 

Read more about Glamping in the Duddon Valley here. 

If its an early morning dip you are after, then I'm assured that Brothers Water is the place! But, I will leave that for you to try out.  These Luxurious Yurts close to Ullswater are on the Sykeside campsite which not only afford a fabulous location for walking very nearby, wonderful views but and an on-site pub too! There is lots to do besides walking at Patterdale...you have the Ullswater Steamer and of course Rheged is always a fabulous place to visit too. 


More information on these Yurts at Patterdale, Ullswater can be found here. 






---
Keswick - Bassenthwaite
On a quiet family run campsite, with views down to the lake at Bassenthwaite and the chance of seeing the Ospreysoaring above thee 18ft Yurts are ideal for exploring the northern fells.  Each Yurt can sleep up to six and has its own fire-pit.  
If its Wainwrights you are after bagging, then there are nine right from the door, or if its a pub meal you are after bagging, then there is a pub in walkable distance too!
The site is dog friendly and electric hook-ups are available too.  Showers are hot and loos are clean! 
Why not read more about the Long Valley Yurts at Bassenthwaite near Keswick here?
Witherslack - nr. Windermere:


Hot Tub available at this location 
The Witherslack Yurts you could say were in the middle of Nowhere or the middle of Everywhere! 
Just a short drive to the lake of Windermere a little further to Grizedale forest and Coniston or maybe you'll just explore from the door or enjoy the hot tub!
However you decide to spend your time, you are well placed for exploring all that the Lakes have to offer and with a pubserving good food in walking distance, what more could you want? 
Read more about these Yurts which can sleep up to six and check out their exact location here. 
---
Far Field Yurt

 
a hand-built Yurt by Magnus, on a working sheep farm
Eden Valley



Rosie and son Magnus haven't actually stopped time. What they've done is take the good from the past and combined it with the good from the present.

Tranquility in the Eden Valley : wood-burning stove, firepit and doublehammock
Something in the very name 'Far Field Yurt' conjures up the feeling of relaxation and tranquility, and without being over-worked Rosie & Magnus have done just that, they've made you a haven in their quieter corner of Cumbria, The Eden Valley, or The Westmorland Fells as it is sometimes referred. 
Hand built by Magnus himself, this larger Yurt at 19ft also has two windows though once night falls you'll find its the star-gazing dome you are drawn to! The owners have spent years listening to guests (although the Yurt is new, they have run a quiet campsite for years) and finding what they really want when on holiday and so, you'll find all sorts of fabulous extras such as a tripod for your campfire, a double hammock, BBQ with tools and even a picnic table too. Inside the kitchen is well equipped the bed is snug and a wood-burning stove is sure to keep you toasty
Equally suitable whether you are looking for a romantic break for two or a family fun filled holiday (sorry no pets), Far Field Yurt is located on a working sheep farm on the border between Cumbria and Yorkshire.
With its own private kitchen and loo you are very self contained and free hot showers are available just across the field at the small campsite.
Read more about Rosie and son Magnus and their story of how this beautiful small campsite and individual Yurt came to be, plus check out all that there is to offer at this wonderful serene location here.